Mijn hartslagband, dat is het enige wat ik vergeten ben. We vieren een verlate verjaardag in Veenendaal en ik wil het nuttige met het aangename combineren door terug te fietsen. 'Najah, dan maar op gevoel', meldt mijn schoonvader. Ik denk dat hij gelijk heeft; er staat me 130 kilometer tegenwind te wachten en de buienradar toont een aaneenschakeling van buien. Zonder hartslagmeter kan net zo goed. Met anderhalf bord pasta in mijn maag vertrek ik tegen 1 uur.
Ik zoek mijn weg door Veenendaal en kom in De Klomp. Daar verruil ik, achter een heg, mijn zomerhandschoenen voor warmere exemplaren. 10 minuten onderweg en nu al koud. De dichte handschoenen zijn een stuk warmer. Via Ederveen ga ik naar Lunteren, waarbij ik onderweg op een zandpad stuit. Het is te doen. Voorbij Lunteren krijg ik het staartje van een donkere wolk over mee heen: hagel! Het striemt in mijn gezicht. Gelukkig duurt het niet lang. De zon zorgt voor warmte.
Onderweg naar Stroe stuit ik op de tweede onverharde weg. Dit is geen plek voor de racefiets. Asfalt en klinkers, dat is wat ik wil. Ik kijk omhoog. Een tweede bui drijft mijn kant op en als ik onder de A1 doorga, is daar hagelbui 2. Ik ben bijna in Garderen als het weer wat opklaart. De route voert over een mooi deel van de Veluwe. Het is er rustig op deze onstuimige zondag. Al gauw rol ik de bult af en ben ik in Nunspeet. So far, so good. Maar ik weet ook dat het met de bebossing gedaan is. Vanaf nu wordt het een gevecht tussen man en wind. En hagel.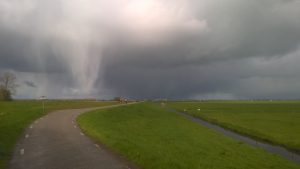 Als ik bijna in Elburg ben, trekt het helemaal dicht. Voor de derde keer zijn de wolken zwart. Van rechts komen 2 wielrenners. Eén ervan is in korte broek. Ik stop even verderop om een foto te maken van de donkere lucht en ze passeren me. Ik vraag of hij het niet koud heeft – let wel, het een graad of 5 – maar hij zegt dat het wel meevalt. Op de Kamperdijk, ver weg van elke schuilmogelijkheid, begint het voor de derde keer te hagelen. Met mijn linkerhand probeer ik mijn gezicht enigszins te beschermen. 5 minuten later trekt het weer open en als ik in Kampen aankom, is de weg droog, alsof er niets gebeurd is.
Ik steek de IJssel over en ga langs IJsselmuiden in de richting van Genemuiden. Ik heb de wind even niet helemaal tegen en het draait best lekker. Een lange regenbui laat me weten dat het nog lang niet gedaan is met de pret. Het duurt tot aan het veer voor ik weer een beetje warm ben. En dat veer? Dat is uiteraard net weg als ik aan kom fietsen. Ik parkeer de Equipe tegen het wachthuisje en maak wat foto's. 1 foto gaat via Whatsapp naar het thuisfront om te laten weten waar ik ben. De zon schijnt, maar een blik naar de overzijde leert me dat het niet lang gaat duren. De lucht is gitzwart.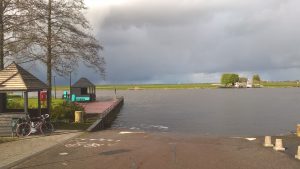 De korte pauze maakte me koud. Ik profiteer van de laatste zonnestralen en fiets eenmaal weer aan wal stevig door om warm te worden. Mijn benen beginnen pijn te doen. De rit en het gevecht tegen de wind en de hagel beginnen zijn tol te eisen. Nog voor Zwartsluis striemen de eerste hagelstenen mijn benen. Ik kan ergens gaan schuilen, maar als ik stilsta, kom ik nergens. En die andere hagelbuien was ook even doorbijten. Maar deze is anders. De hagel is heftiger, de bui is lang en duurt tot voorbij Belt-Schutsloot. De hagelstenen die op mijn broek blijven liggen, prikken hun kou in mijn vel. Ik ben drijfnat. Het is de evenzo heftige opklaring die me erdoor heen sleept. Het lijkt wel droog te gaan blijven.
Hoe ver zou het nog zijn? Een kilometer of 30? Ik ken dit stuk en ik weet inmiddels hoe de wind staat. Ik schakel maar eens kleiner om mijn knieën te ontzien. Deze tocht duurt anderhalf uur te lang. Ik kom uit in Giethoorn. Er vallen een paar druppels, nauwelijks genoeg om de weg nat te maken. Na Steenwijk moet ik de klim omhoog naar de watertoren. Normaal geen probleem, maar ik ben op. De wind speelt met mijn vermoeide lijf. Tegen beter weten in pak ik nog een stuk koek. Ik zal er niet harder van gaan fietsen, maar ik ben in ieder geval mijn rammelende maag even kwijt. Het laatste stuk is lijden. De vlaggen bij Holland-Inn, vlak voor Wolvega, staan strak. Ze herinneren me eraan hoe hard het eigenlijk waait. Als ik rechtsaf de Scheeneweg op draai, schijnt de zon en krijg ik de laatste 900 meter wind mee. Minder dan 2 minuten daarna klok ik af. Het is bijna half 7. Ik heb honger. Tegenwindkilometers tellen dubbel en met die gedachte ga ik snel onder de warme douche.