Het is bijna 12 uur als ik de Equipe tegen de auto parkeer. De campingbaas komt aangefietst. Een waar noodweer was afgelopen nacht over de Elzas getrokken en had zich zorgen gemaakt of het kleine tentje waarin ik slaap dit had overleefd. Ik had er persoonlijk weinig van meegekregen. Te vermoeid van de zware rit van de dag ervoor.
4 uur eerder vertrok ik voor de laatste rit van dit weekend. Tot mijn verbazing is het droog, tegen alle voorspellingen in. En volgens de lokale buienradar, blijft dat ook nog wel even zo. Misschien had ik stiekem wel gehoopt op een verplichte rustdag. Slecht weer = overmacht. Aan de andere kant voelt mijn lijf verbazingwekkend hersteld. Slechts de zonnebrandplekken op mijn armen, herinneren me eraan dat ik gisteren 7 uur onderweg ben geweest.
Ik fiets Masevaux uit, richting Lauw. De weg ligt bezaaid met de restanten van het noodweer van afgelopen nacht. Takjes, modder en van dat bruine spul uit de bomen. De zon piept erdoor. Het wordt een heerlijke fietsdag. Na Lauw duik ik het fietspad op, over wat ooit een spoorbaan was. Het fietspad leidt me naar Sentheim. Vanaf hier ligt de spoorbaan er nog en is er in de zomermaanden een toeristentreintje. Het station ziet er desolaat uit, heel anders dan toen het vorig jaar in gebruik was. De weg loopt licht naar beneden en ik trap in een soepele cadans door. Op mijn scherm zie ik dat ik linksaf had gemoeten, maar daar ligt een spoorlijn tussen. Pas kilometers verderop kan ik links en moet ik dus een stukje terug voor ik terug ben op de geplande route. Ik vervolg mijn weg over de D36, via Bourbach-le-Bas naar Rammersmat. Hier zit een kort klimmetje in. Een mooie test voor mijn spieren. Wat een verschil met gisteren! Ok, ik ga niet als een gems de bult omhoog, maar het lukt me wel om tegen de pedalen te blijven duwen. Ik kijk eens naar beneden. Het vet rond mijn knieën lijkt geslonken. Mijn kuitspieren steken scherper af dan eergisteren. Ze glimmen van de zonnebrandcrème. Een paar haarspelden verder ben ik boven en na het dorpje ga ik in de afdaling verder richting Thann.
In Thann beland ik in de stoplichten. Nare stad, dit. Ik wil naar de andere kant, want daar loopt de VV33, een route speciaal voor fietsers. De geplande afslag blijkt eenrichtingsverkeer, en dus pak ik de tweede afslag. Op mijn schermpje zie ik de route verschijnen. Ik moet voor de kerk langs. Op het allerlaatste moment zie ik dat de weg en het pleintje van elkaar gescheiden zijn door een asdiepe, scherp gerande goot! Met 2 blokkerende wielen en een uitwijkmanoeuvre die ik zonder noodzaak niet kan reproduceren, voorkom ik een valpartij. Pff. Ik vervolg mijn weg 30 hartslagen hoger. Al gauw ben ik op de VV33.
Het is geen beste weg. Het asfalt is slecht. Het stoort mijn ritme. De weg ligt ingeklemd tussen de rivier en de berg. Ik las een plaspauze in. Ik kijk om me heen, naar de bergen aan de overkant. Links is de col du Hundsruck. Ik fiets door een stukje dorp en steek daarna de weg over, om het fietspad aan de andere kant te vervolgen. Kruth is dan nog een kilometer of 11. En dan ineens schiet het door mijn hoofd: dat kan natuurlijk ook! Het oorspronkelijk doel was om over de col d'Oderen en de col du Page te gaan, maar het is zondagmorgen, heel vroeg. Het is rustig op de weg. Ik kan ook over de Bussang. Normaal een weg om te vermijden met al het verkeer, maar nu een uitgelezen mogelijkheid. Vooralsnog gaat de weg verder, tussen berg en dal. Door bebouwing, lastige oversteekjes, 'barrières'. Eigenlijk een slechte plek voor racefietsers. En dan ineens sta ik voor een brede asfaltweg. De N66. Ik steek over en ga verderop linksaf. Nog even kan ik mijn weg, ver van de drukte, vervolgen. Maar een paar kilometer verderop zijn de dorpjes op. Wat rest is een lang, zwart lint omhoog, de col op.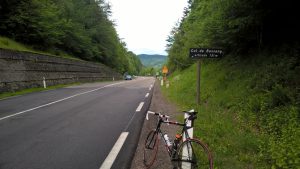 Met de versnelling vóór op het middenblad trap ik rustig de eerste kilometers van de klim weg. 4, 5%. Meer niet. Dat gaat makkelijk. Vorig jaar reed ik hier met auto en caravan omhoog en toen zag het er een stuk lastiger uit. De bochten zijn breed. Het enige lastige van dit soort wegen is dat de referentie ontbreekt. Maar die komt al gauw als ik in de haarspelden beland. Van de andere kant komen fietsers naar beneden, op hybrides. Sommige zonder helm. Waanzin. Ik weet inmiddels hoe belangrijk dat ding is. De weg vlakt af naar 2, 3% en ik ben gauw boven. Een prima col voor deze zondagmorgen. Ik trek mijn mouwstukken omhoog, maak een foto voor de herinnering en ga de korte, rechte afdaling in. Op naar de Ballon d'Alsace.
Deze laatste klim ken ik maar al te goed. In 2014 was ik serieus in training voor Les 3 Ballons, maar op deze klim ging het helemaal mis. Ik had dezelfde slechte benen als gisteren en na anderhalf kilometer moest ik van de fiets. Op het allerkleinste verzetje kwam ik boven. Vandaag gaat het makkelijker. Ik ben weleens sneller geweest, maar ik hou achter 3 tandjes over en ik heb de macht om te blijven duwen. Mijn hartslag is te laag. Vermoeidheid. Een goed teken. Gisteren was mijn hartslag hoog en had ik geen macht. Er staan bordjes die de kilometers tot aan de top aangeven. De weg is steeds exact 7%. Het kilometerbordje '5' ontbreekt, zodat ik ineens al over de helft ben. Ik trap rustig door. 158 hartslagen per minuut. Zuur in mijn benen. Ik schakel wat lichter en kom bij. Nog eenmaal linksom en dan staat verderop, verstopt achter een struik, het bordje van de col. Het klimmen zit erop.
Bovenop zit ik in de wolken. Ik maak een foto van de overduidelijke scheiding tussen de Elzas en de Vogezen. Aan de ene kant schijnt de zon, aan de andere kant is het donker en grijs. Dan ga ik met de mouwstukken omhoog en de windbreker aan, de afdaling in. Een half uur later ben ik beneden. De rest van het verhaal kennen jullie. De Equipe mag in de auto en na een douche en lunch, vertrek ik rond een uur of één weer richting Nederland. Een prima trainingsweekend met veel gezichten.
https://connect.garmin.com/modern/activity/1190455121